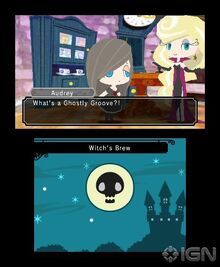 Crystal is a glamorous witch and an acquaintance of Lola. When she meets Gabrielle, she talks about serving her up as part of her witch's brew (which may or may not have been a joke), but Lola convinces her to help Gabrielle get back into her body. Crystal says that the solution is to collect human screams.
Appearance
Crystal has long, wavy blonde hair, blue eyes, a floor-length cape, gloves, and a strapless floor-length dress with a slit at the side.
Ad blocker interference detected!
Wikia is a free-to-use site that makes money from advertising. We have a modified experience for viewers using ad blockers

Wikia is not accessible if you've made further modifications. Remove the custom ad blocker rule(s) and the page will load as expected.